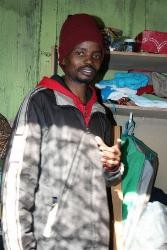 Dinisile Qapa (Ndungwana), a Bachelor of Fine Arts (BFA) graduate from Rhodes University, was born in Grahams-town in 1976. Now he lives and works in East London.
His favourite media is painting and printmaking.
His work is inspired by people's daily lives and he likes to create rural and urban landscapes which show people's energy and positive outlook in life.
Dump Site
Oxford Street 1
Oxford Street 2