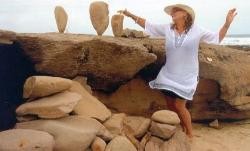 Margery Bradfield brings to her work her varied roles in life, exploring the rich values of her own soul.
Uniquely autobiographical, her work is also archetypal in both content and presence.
The viewer becomes a participator in a unique individual and at the same time being drawn towards his or her own life story and images.
Areo Plane Angel
Bird Angel
Feeling Free
The Spaces between